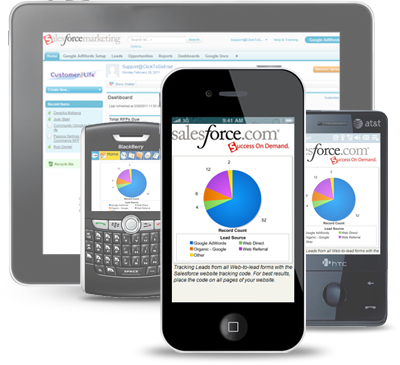 Customer For Life configures and deploys Salesforce Mobile to help your team close more deals. The needs of your mobile sales force are met by providing critical information for success in real-time.

Get Your Business Info On The Go
Important deal making information is sent straight to your smartphone. Your sales team stays in touch with the latest client information, opportunities, data, dashboard reports, and more without having to be at their computers.
New leads are sent directly to your mobile device. Your sales team logs information immediately after important customer calls, emails and appointments. This ensures that critical information is always there as you need it.
Features
One Click Calls
One Click Emails
Make Appointments
Call Logging
Email Logging
Create and Assign Tasks
Lead Follow-ups
Respond to Cases
View and edit Standard Objects and Fields
View and edit Custom Objects and Fields
and More!
Salesforce Mobile lets a user quickly search for a contact within their Salesforce instance then with one click call or email that contact. That call or email can be logged directly into Salesforce.
Full editing capabilities

Visualforce pages on the device

Mobile enabled third party apps

Point and click app development

Complete customization control

Centralized management
Less is more – see only relevant data on the go. Make informed decisions without filtering data clutter.
Processing orders or updating customer cases in real time.
Access content like presentations or brochures and forward them to customers on the go.
Collaborate Instantly – connect with your members of your time in real time on your phone.
We don't just setup your Salesforce Mobile, but we can provide training to your team. We have courses Live! Online, at our facility, or at your office. Learn More »
Salesforce Mobile Availability:
BlackBerry
iPhone
Windows Mobile Platforms
No Signal? Work Offline!
Worried about not having a signal? Salesforce Mobile can be accessed online and offline. Salesforce Mobile stores a local copy of the user's data in its own database within your mobile device. You can then edit your information at anytime then automatically upload your data when a connection becomes available.