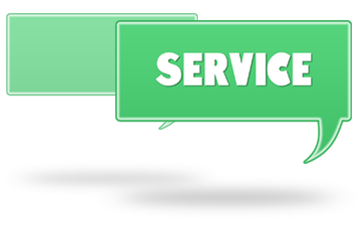 Retain customers by using integrated tools and automating your customer relationship management. We make cases, calls, and your social networks work with you.

Service Center
We connect your call center, emails, cases, knowledge base, social networks, and more.

Email
Eliminate email delays. Assign the right service agent automatically, as soon as an email comes in. Send out auto responses giving additional information as needed.
Call Scripting
Service your customers faster. Let your call center agents do their jobs better, by giving them options of what to say and what information to push to your clients and leads.
Search
Optimize your knowledge base and website to help customers find the right answers. The first place users turn to find answers is search engines. Make it work for you.
Partners
Improve partner relationships and outsourcing effectiveness. Allow third parties to manage cases and collaborate without showing sensitive information.
Contracts & Entitlements
Match customers to the appropriate level of service instantly. Set timeline milestones. Manage service costs more effectively.
Dashboards & Reports
Track your customer service operations and see where your agents excel and need to improve. Track issues to create improved and more efficient knowledge solutions.
Social Monitoring
Join conversations about your company, products, and services easily. Connect with customers on Facebook and Twitter in real-time with Salesforce.
Live Agent
Talk with customers fast using live chat on your website. Track everything in Salesforce.
Salesforce Call Center
Utilize all needed tools for improved productivity. Speak in a connected environment. Use communication channels used by your customers.
Self-Service Communities
Start a community that lets your users answer questions for you. By having a community you can build followers, promote ideas, take polls, build knowledge and customers.
Collaborative Knowledge
Push the right answers from one knowledge base across all of your service channels: contact center, website, and social media. Filter questions down to provide the best answer.
Social Analysis
Monitor and track your social networks. Monitor the conversations to suggest strategies for your sales, marketing, and service agents.
Features
Customer For Life service centers empower customer service reps (CSR) to solve issues and communicate with customers through different channels. This means engage customers with chat, voice, email, knowledgebase, user community, search, email and social media. Utilize dashboards for accountability and progress assessments. Stay on message with call scripts.
Benefits
Customer For Life service centers allow you to communicate with customers on their own terms and their desired channels. Improve responsiveness, information accuracy, efficiency, customer acquisition and loyalty, build your brand and lower costs.
Sell More with These Solutions

Join the conversation! Connect with your customers on LinkedIn, Facebook, and Twitter through salesforce.com.
More»

1.
Click
2
. Speak
3.
Sell - Integrates with your web browser and salesforce.
More»

Get the data you need to make intelligent business choices at your fingertips with real-time graphs, charts, and reports.
More»

Empower your support team with critical information on the go to retain more customers.
More»

Accelerate your business processes. Accomplish more without hiring additional employees. Increase your efficiency and productivity.
More»