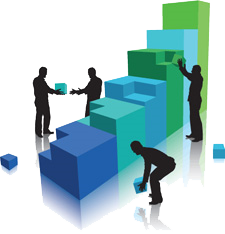 We enable your sales force to spend more time selling and closing deals while spending less time on administration.

Customer For Life systems empower your sales force to work more efficiently. Salespeople need to effectively manage opportunities, utilize fewer resources, and sell more in less time.
Sales drive an organization's success. Customer For Life provides your sales team with the tools they need to close more deals. Helping your company work more effectively and efficiently is what we do best. Smart management of leads and how you work deals optimizes sales performance and profits. We can help.
We Make it Easier
Customer For Life develops bespoke solutions that fit your specific industry and business requirements. We make the job of your salespeople easier. Needed information and tools are at their fingertips on a PC, Blackberry, iPhone or Palm. Our workflows and process enhancements mean a dramatically improved user experience. Fewer clicks, greater functionality, more relevant information add to adoption and improved results.
Actionable Intelligence - Measurable Results
Customer For Life leverages salesforce.com and places at your fingertips the data you need to make intelligent business choices. Make real-time informed decisions knowing all relevant facts. Current information results in maximum benefits. Metrics available as it is happening. Micro and macro views featured. See one location, department, zone or many globally. Drill down to individual customer history. We develop powerful analytics for marketing, sales and support visibility.
Forecasting and trend analysis helps build sustainability. Become more proactive allocating resources as needed. Know what is in your sales pipeline and have the ability to move stuck opportunities forward.
Based on various analytic and forecast scenarios have ready automated sales responses. More»


Sales Lead Management
Maximize Lead Flow from Capture to Close
Maximizing how you handle leads including flow to marketing and sales are imperative to success. Assume you have complex requirements with Business, Consumer, Nonprofit, Alliance, Service and Support Leads coming into your organization. Routing the right lead to the right representative assures proper qualifying by the individuals handling the opportunity. Immediate access to the lead combined with tools to effectively engage the prospect increases closings. With our redundant systems leads never fall through the cracks.

Automated Data Capture
Transfer your data into salesforce from ANY data source. Avoid painstaking manual double entry of information.