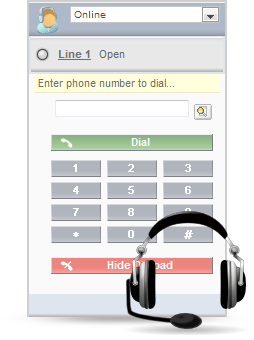 Customer For Life's call center solution is an advanced VoIP telephony system that connects with your Salesforce instance. Speed up your salespeople, customer service agents, and your slow call center system.

Deliver Faster, Better Service with Fewest Possible Clicks
Spend less time clicking around and more time selling and helping customers. No expensive hardware or software needed - It runs entirely on demand integrated into your web browser.
Outbound Call Efficiency
Sell more. Double, triple, quadruple the number of outbound calls that you make in one day. All you do is "CLICK" on the prospects number in Salesforce and you are connected. Automatically, an event is logged into your Salesforce history for easy follow-up.
Inbound Call Productivity
Automate account details on your incoming calls. Our "Screen Pops" instantly pulls up the record of your contact. As soon as you answer the phone, you have all the information needed to make your next sale.
Screen Pops - See who is calling before picking up the phone. Receive detailed information including name, address, all phone numbers, email, associated contacts, tasks, purchases, communications and more.
Click to Dial - Click the number and be connected with your customer or prospect. It's that easy.
History Log - Automatically Log All Inbound and Outbound calls including time and duration within Salesforce. Notes also can easily be attached to any call.
Multi Location - Receive the same features within the Office, Support, Branch, Dispatch, and Home
More Features:
All updates included
Fast - Easy - Simple
Seamlessly-Integrated
Unlimited flexibility
Raise Productivity
Get More New Customers
Sell More to Existing Customers
Fast and High Return On Investment
Communicate with Your Customers One to One
Save time with click-to-dial, screen pops, and automatic call logs
Standard PC
PC/USB Headset
Broadband connection
Internet Explorer